Dogs, Magicians and Live TV: Recapping the 2016 Golf Industry Show
If you attended the 2016 Golf Industry Show, it wasn't hard to find LebanonTurf. We put our fingerprints (and some paw prints) all over the show floor during an exciting few days in sunny San Diego. If you couldn't make it to the show, you're in luck. We've got a full recap of our participation in the show right here for you.
Firstly, it was easy to find our booth on the show floor, since we had a prime location right in the middle of it all, and right on the main walkway. It was also easy to find it because it seemed like we always had a crowd around the booth.
Visitors to the booth were invited to spin our prize wheel for a chance to win some cool prizes, but the real draw was the Dog of the Year voting.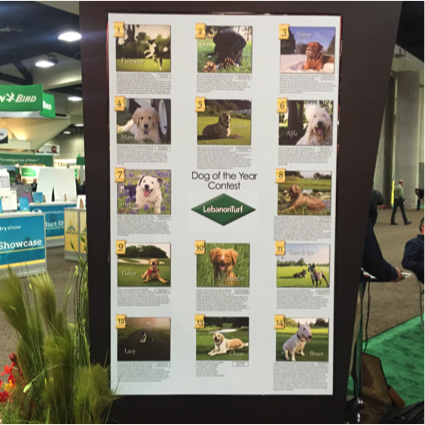 On the first day of the show alone, visitors cast over 550 votes, ultimately ending with a two-day total of over 900 votes! It got so competitive that one of the dog's owners was outside our booth campaigning for votes for several hours! At the end of the show, we were proud to announce that Fairway won the coveted Dog of the Year crown. Hailing from Toledo Country Club in Ohio, Fairway spends her time at the side of Tim Glorioso, CGCS. We're making a $3,000 donation to Northwest Ohio Golf Course Superintendent Association chapter, awarding Tim a $500 cash prize and making a $1,000 donation to the Train a Dog Save a Warrior (TADSAW) Foundation. TADSAW provides training for a Medical Alert service dog for any wounded warrior who is surviving with traumatic disorders such as PTSD.
One of our most unique highlights was our partnership with the GCSAA TV Live coverage of the show. The live stage right on the show floor allowed people to get the show experience even if they couldn't attend. Two full days of programming included interviews, round tables and demos, all broadcast live online. With our partnership, each day of the show began with a segment showcasing LebanonTurf products. With a show that's been going on for a long time, this live coverage is an innovative new opportunity, and we were thrilled to be its premier sponsor. You can watch all the GCSAA TV programming from the show here.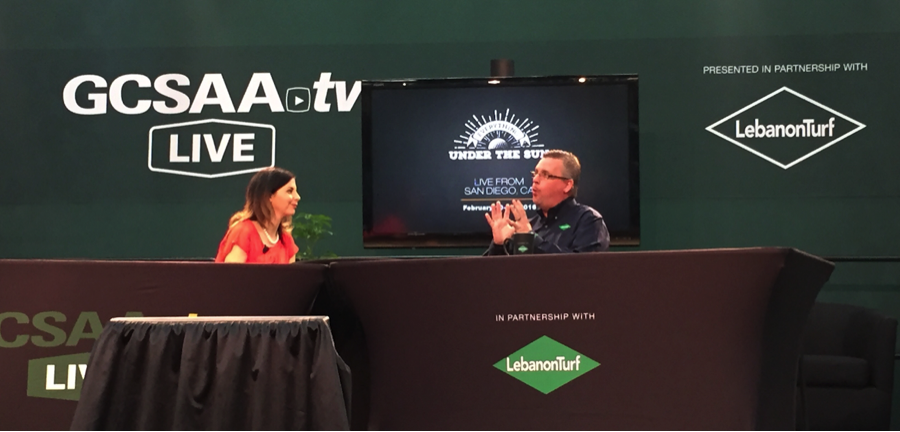 Speaking of our products, our booth featured our new Proscape® Fertilizer with Acelepryn® plus Dimension®, as well as our Emerald Isle™ and Country Club MD® brands. Visitors to the booth warmly received the new Proscape product, which you can learn more about in our last blog post.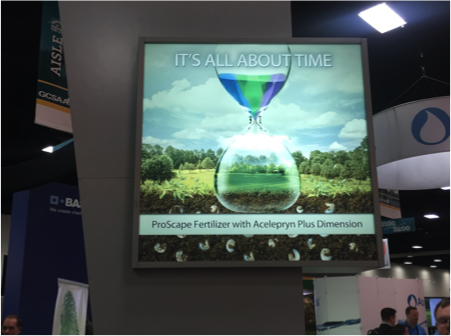 We also highlighted our new variety of Country Club MD Greens Grade 0-0-24, which our Chris Gray describes as "a great product for superintendents who want a potash source without the nitrogen." Throughout a jam-packed two days in San Diego, we were proud to showcase our products, entertain the show attendees, and help bring a live video experience to those who couldn't make it. For more photos and videos from the show, along with industry news and updates from LebanonTurf, follow us on Facebook and Twitter.