ProScape® Fertilizer with Acelepryn® plus Dimension®: What You Need to Know
There's no better way to kick off our new "For the Health of It" blog than to introduce an exciting new addition to the LebanonTurf family of products. We're proud to bring you the new Proscape Fertilizer with Acelepryn plus Dimension. It's a big name, and it'll have a big impact on your turf care efforts.
This new fertilizer is a one-two-three punch in turf care, yielding a beautiful dark green color while protecting against grubs and crabgrass. And it doesn't just prevent crabgrass; it kills the crabgrass that's already there. It also controls other grassy weeds all season long, as well as other insects like cinch bugs, billbugs, and bluegrass weevils.
All of these benefits are rolled into one product, meaning that in most environments, one spring application is all you'll need. Rather than dealing with several applications of a few different products over the course of the year, the new Proscape Fertilizer with Acelepryn plus Dimension makes it quicker and easier, saving you precious spring prep time.
So what exactly is ProScape Fertilizer with Acelepryn plus Dimension made of?
MESA®: Our unique nitrogen source that combines ammonium sulfate with methylene urea in a single homogeneous particle. The result is an extremely effective controlled-release nitrogen source that delivers consistent dark green color without surge growth.
Meth-Ex®: Our high activity methylene urea nitrogen source
that provides extended turf feeding without the need for coatings.
Microbial release allows Meth-Ex to release nitrogen when the
turf needs it the most.
Expo®: Our controlled released potash product that is a distinctive, homogeneous granule combining methylene urea and potassium sulfate. Expo has been specifically designed to deliver an efficient, cost-effective, controlled release source of potash along with a slowly available source of nitrogen.
Acelepryn: An effective insecticide that targets grubs, caterpillars and weevils. It has a wide application window, and though early application is best, it gives superintendents the flexibility to apply it when they're ready.
Dimension: A specialty herbicide that kills and prevents crabgrass. It also provides season-long control of goosegrass, foxtail, spurge and Poa annua. Dimension is versatile, non-staining, low-odor, and can be applied on ornamentals, established lawns, tee boxes, greens, fairways, and sod farms.
As stated before, since all these components are in one product, one application is likely all you'll need. However, with different states' regulations on pesticides and insecticides, we've developed several variations to make sure you meet your local standards.
Here's a helpful chart to aid in your application: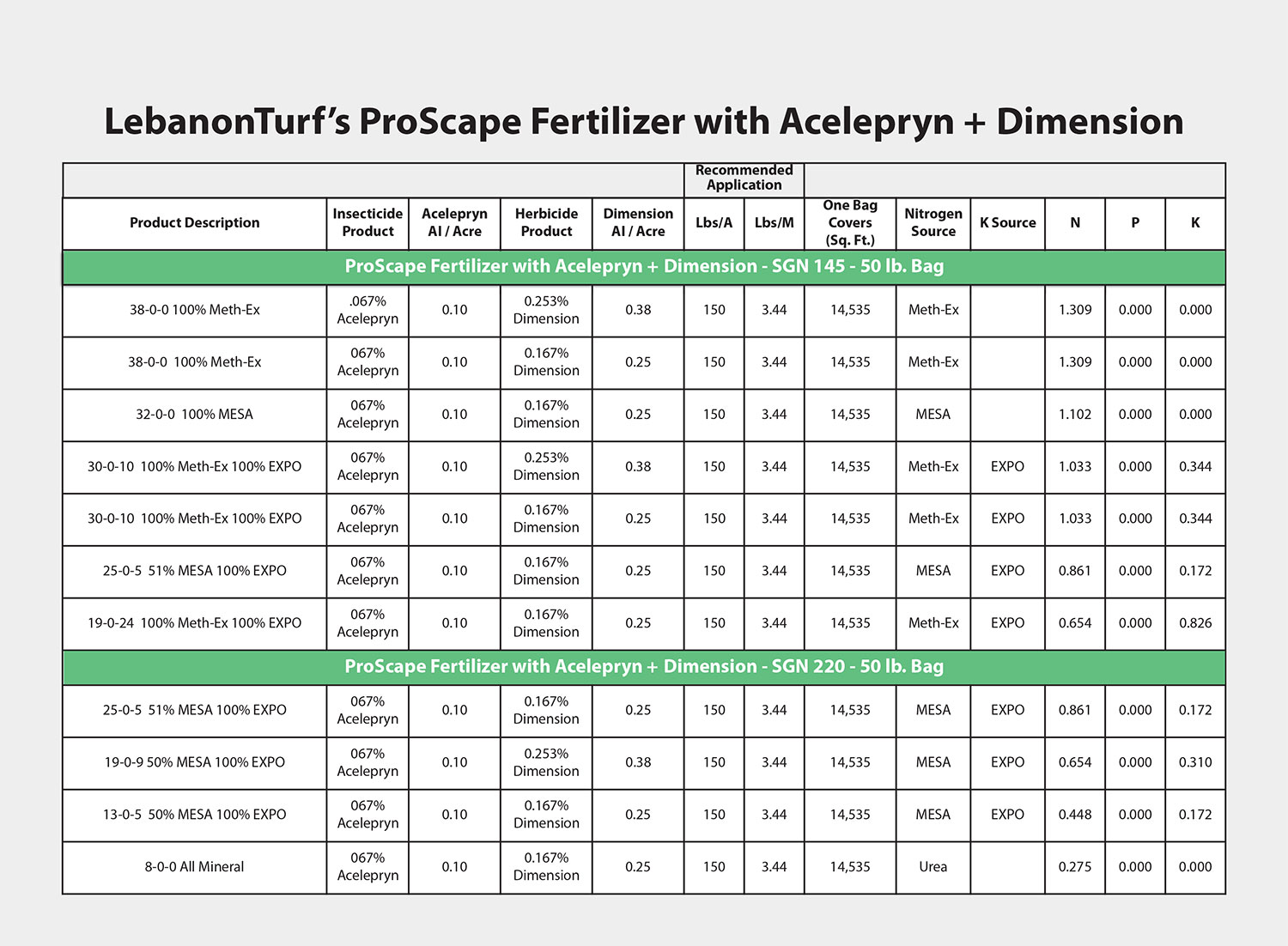 It's hard to beat an innovative and comprehensive fertilizer backed by our experienced LebanonTurf team.
ProScape Fertilizer with Acelepryn plus Dimension is available now, and you can order it through your local sales representative.
Stay tuned for our next blog post, where we'll recap the Golf Industry Show, which takes place from February 6-11 in San Diego, CA. Maybe we'll see you there!